What is a Medical Facial?
A medical facial involves cleansing, exfoliating, and hydrating the skin. Unlike other spa facials, the medical facial is performed by a Medical Aesthetician using medical grade products and treatments for optimal results. Medical facials have the ability to target deeper layers of skin to treat a range of concerns including fine lines, age spots, sun spots, acne scars, rough texture, large pores, and more.
What is Included in a Medical Facial?
A medical facial is highly customizable depending on your specific skin type and concerns. Our Medical Aesthetician will evaluate your skin care concerns, complete a skin analysis and create a customized treatment plan and skincare regimen for you. This may include a combination of treatments and products including: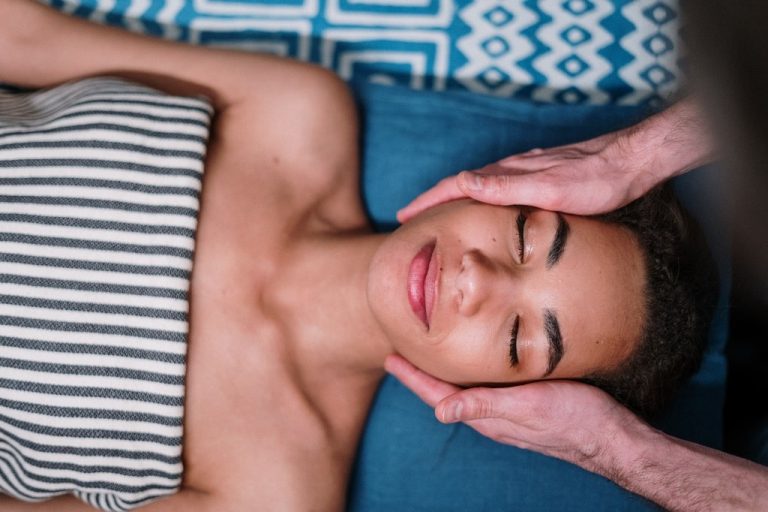 Dermaplaning is often performed first for effective exfoliation, removing dead skin cells, dirt, and other debris from the pores as well as fine facial hair. Dermaplaning involves the use of a thin surgical blade at a precise angle to gently scrape the surface of the skin, resulting in a smoother look and feel right away. This allows for other treatments like peels and products to be absorbed into the skin more effectively. After dermaplaning, patients also find makeup application easier.
A chemical peel promotes the removal of dead and damaged skin cells, and the production of new, healthier skin cells to improve skin tone and texture. Chemical peels can range in strength from light, medium, and deep peels. Deeper peels can treat deeper layers of skin for more severe concerns like acne scars, fine lines and wrinkles, uneven skin tone, discoloration and acne while light peels can effectively target surface level blemishes with little redness afterwards. You might add a chemical peel to your medical facial for healthier, rejuvenated skin.
Skin care products are typically recommended during your medical facial to optimize your results. Our SkinCeutical product line has everything your skin needs to prevent, protect, and correct your skin. Our experts can recommend the right products for your unique skin type and concerns that you can use after your medical facial to maintain your results.
Personalized Care. Honest Approach.
Dr. Venkata Erella is double board-certified, highly respected, and takes a patient-centered approach to care that has made him a valued member of the Austin, TX community for many years. Contact us today to learn how Dr. Erella can help you reach your ideal look!
Dermaplaning Facial - $60.00

This facial begins with effectively removing dead skin cells and vellus facial hair (aka "peach fuzz"), this allows for deeper product penetration during the facial. After dermaplaning our Aesthetician utilizes a custom treatment to address your skin concerns. This facial leaves you feeling smooth and bright.
Anti-Aging Facial - $65.00

This Anti-Aging treatment is designed to revitalize and repair dull, tired skin while restoring luminosity and preventing future damage.
Skin Detox/Acne Facial - $85.00

This detoxifying treatment purges skin of impurities and rebalances congested skin resulting in a clear, glowing complexion. Blue/Red light therapy included.
Nourish + Hydrate Facial - $65.00

Many patients choose Restylane as an under-eye filler and for adding volume and contour to the lips, thus diminishing signs of age along the face.

As with Juvéderm, Restylane is part of a family of dermal fillers that each have different properties to address various facial concerns, such as the smoothing of wrinkles and adding volume to sunken or depressed areas of the nasolabial folds.
Austin Medical Facial | Chemical Peel FAQs
How often should I get dermaplaning?

It's safe to get dermaplaning monthly or even weekly if your skin doesn't react negatively. For even more dramatic results, you can combine dermaplaning with other treatments such as a liquid facelift.
What are some target areas for dermaplaning?

This skin rejuvenation procedure provides effective results on almost any body part. However, most people prefer to have their face and neck treated. During your consultation, we'll advise you whether you are a good candidate for dermaplaning, or if another treatment would better serve you.
Can men benefit from Austin medical facials?

Men can and do get customized facials according to their skin type and the issues they are experiencing.
Can a facial treat acne, acne scarring, hyperpigmentation, and rosacea?

No. A facial will not correct your problem if you have a skin condition. These issues require dermatological intervention with medication, medical-grade products, or alternative medical services.
What happens during a chemical peel in Austin?

Before getting a chemical peel, some patients must follow a pre-peel skin care plan for two to four weeks. This plan may also improve results and reduce potential side effects. Dr. Erella will tell you whether this is necessary.

On the day of your peel, we'll prep you for treatment, including thoroughly cleansing your skin. If you have scheduled a deep peel, you will receive general anesthesia, which will put you to sleep. Dr. Erella performs a deep peel in a clinical setting.

After you are ready, Dr. Erella will apply the peel quickly and evenly. Then, he will carefully watch your skin to remove the chemical solution at the correct time. With a deep peel, Dr. Erella treats your skin one small section at a time to limit its effects on your heart and lungs.

After we remove the peel, we'll treat your skin as required. For example, patients receiving a medium peel may require cool compresses followed by a soothing lotion. If you get a deep peel, your face will require a surgical dressing.
What must I do after getting an Austin chemical peel?

All peels we perform will require at-home care. The following shows you what you can expect.

Refreshing or Lunchtime Peel

Healing time: One to seven days. The skin will be red with scaling developing afterward, lasting three to seven days.
At-home care: Apply medical-grade cream or lotion until your skin heals, followed by daily sunscreen.
When to wear makeup: Typically, you can resume wearing makeup the next day.
Follow-up visit: However, three to five peels spaced every two to five weeks may be necessary to achieve your desired results.

Medium Peel

Healing time: One to two weeks. Your skin will be red and swollen for at least two days. Blisters can form and break open. Your skin will crust and peel off in one to two weeks.
At-home care: You will need to soak the area daily for a specified period and apply an ointment after each soak. Take an antiviral medication for 10 to 14 days. Totally avoid the sun until your skin heals.
When to wear makeup: You can start wearing makeup after five to seven days.
Follow-up visit: Yes, you'll need to return for a checkup after the procedure.

Deep Peel

Healing time: Plan to take two weeks off work to rest and recover. You'll have protective dressings to wear on your face.
At-home care: You'll need to do four to six daily soaks while healing. For two weeks, apply ointment after each soak. After 14 days, apply thick moisturizer as directed. Take an antiviral medication for 10 days to two weeks. Completely avoid the sun for three to six months.
When to wear makeup: Wait at least two weeks after treatment.

Follow-up visit: Yes. Dr. Erella will want to see you for multiple follow-up visits during the first week.
Contact Dr. Venkata Erella and Aspira Plastic Surgery and Med Spa for more information on the medical facial or to schedule a consultation. Our office in Austin can be reached online or by phone at (512) 730-3885.